Last Night at the Pink Taco
BUSINESS EDUCATION MEETS HOLLYWOOD!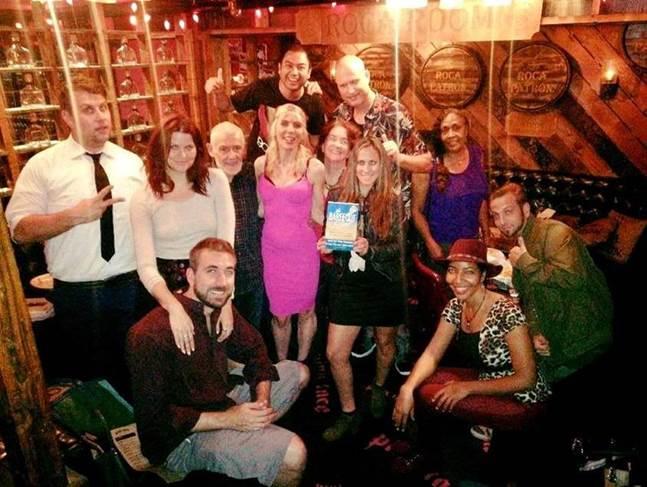 Book cast from left to right: Middle row: Case Williams, Jennifer Van Heeckeren, Robert Weiner, Alamada Karatihy, Mary Benedict, Lizette Santiago. Back row: Ruffy Landayan, Matt Weinglass
Last night at the Pink Taco, on the Sunset Strip in, you guessed it, LA, a very special group of Hollywood actors gathered in a reserved table for a very special celebration. The production they had been working on for over a year was finally completed and launched. They were celebrating! And well they should! What they have been working on is no less than a breakthrough in business education, a new application of experiential learning, and the creation of a whole new genre of business audio books, Business Audio Theatre. 
The actors weren't in a movie, but they were in a "movie of the mind." They performed in cinematic scenes with sound effects and an original musical score. They acted out real life situations that occurred in the early days of the founding of what is now the world's largest wine brand. And they did it all in audio, where an outstanding female narrator set up the listeners for each scene with descriptions of the sets, the challenges, and the mentality of the characters. This was a private launch party for the Sherwood Players who produced The Barefoot Spirit Business Audio Theater. 
We are very proud of the professional job they did as performers. They definitely brought our New York Times bestselling paperback to life in a new, fun, and exciting way. Some of them are starting their careers. Others are seasoned veterans. We hope this opportunity will help them all move forward. 
The venerable Ed Asner plays a very convincing skeptical supermarket buyer who originally refuses to take on Barefoot Wine, but ultimately paves the way for its success. Gigi Perreau, the longtime Hollywood actress who actually performed on original radio theater, plays Mabel,  Bonnie's mom and a WWII Rosie-the-Riveter, salt-of-the-earth type, who comes to live with us and pitches in with physical and emotional support. 
Our narrator was Alamada Karatihy who beautifully carries the story through all its ups and down, twists and turns. 
Interestingly, one of the actors, Tom Mallory wrote his own business book, Bankroll, to help Hollywood actors gain financing for their projects. 
The original musical score was the brainchild of Tyler David Gilbert who also did a masterful job of editing… and re-editing! Thank you Tyler! 
But like any team, its performance is only as good as its coach. In this case our director, Matt Weinglass, was responsible for leading his troupe! Matt understood what we were trying to do, which was to bring our business biography to life and demonstrate through dramatic performance – and a generous dash of humor –  key business principles that can help others succeed. He artfully and skillfully brought all the pieces together to create continuity, purpose, vision, and team spirit. And after all, that's what the story is all about …spirit!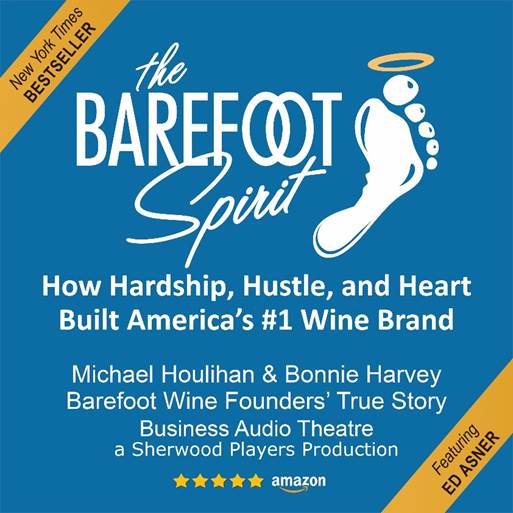 Many thanks to Sherwood Players Productions and our dear friend and colleague Ryan Foland ,who encouraged and supported us in this new venture! 
So now it's up to you. We produced this new style of business audio book in the hopes that more of you would benefit from the many lessons we learned the hard way – so you don't have to! Just experience what happens to us in this modern seat-of-your-pants, cliffhanger adventure story about a brand you know. We'd love to get your comments and we would be thrilled if you would recommend it to your friends who can benefit. There's ten, 40 min chapters with a short "live" interview with us at the end of each, perfect listening for your next jog or commute. 
Hear to a few scenes from The Barefoot Spirit, now available on our Author's Direct page and at audiobook retailers everywhere! 
To your success!
M&B                       
Michael Houlihan & Bonnie Harvey
Co-Founders, Barefoot Wines
New York Times Bestselling Authors
The Barefoot Spirit, The Entrepreneurial Culture

Office: 707-887-8787
Mobile: 707-484-1600
Skype: Michael.Houlihan7
www.thebarefootspirit.com
www.thebrandauthority.net
**********
PRESS RELEASE:
SEPTEMBER 2nd, 2019
LOCAL PR & MARKETING COMPANY TEAMS UP WITH SECURITY INSTALLATION ORGANIZATION TO GIVE BACK TO THOSE IN NEED FROM BARBADOS.
Mareka Marks It, a local PR & Marketing company ran by Ms. Mareka Haynes and Security Hub International Inc. directed by Reno Jones are teaming up to give back to those children who are in need of school supplies after this long summer holiday.
The duo will host their give-back event on Saturday, 14th September, 2019 at the Arts Splash Venue, Hastings, Christ Church from 11:30 am to 6:00 pm. One may ask why so last minute? Ms. Haynes mentioned a few slots being taken up by camps and the like and that running an initiative of this caliber solo is not an easy task.
Ms. Haynes stated to our spoke person that "Giving back is not always about receiving but truly reminding a child that your current circumstance does not determine your way forward." She also is pleading with parents that telling others you are in need is not a bad thing. Every 'Bob' has his day. It is a wholehearted movement that took faith and mental strength and stability to pull off amidst the search for a venue and right amenities to suit the type of initiative, it was accomplished!
Look out for more from the duo later this Year as they are already in talks of a pre-Xmas event, venue not released for now but it will be as wonderful and heartwarming as they present 'KIDS DAY!' AT ARTS SPLASH this Year of 2019.
MAREKA MARKS IT
www.marekamarksit.com
1246-239-4932
SECURITY HUB INTERNTIONAL INC.
http://www.securityhubinternational.com/
**********
Councilman Dixon Assembles Committee to run for Mayor, City of Jonesboro
#ittakesavillageinjonesboro


Photo 1: Committee to Elect Alfred Dixon, Mayor City of Jonesboro
Quickly following his announcement to run for Mayor of Jonesboro, GA, City Councilman Alfred Dixon held an organizational meeting at the venue housing Village Talk Radio. Alfred Dixon has always been authentic in his approach to problem solving on behalf of the citizens of Jonesboro.
His engagement hashtag, #ittakesavillageinjonesboro, will provide strategic dimensional plans to elevate the City towards workforce diversity training, purpose-driven experiential education, job skills development, housing, and more. Solving problems for the community will continue to be his trademark, while engaging all community cultures to enable a successful, sustainable city.
Councilman Dixon's humility and discipline while serving, being committed and consistent, gained him special credibility--from running the campaign for the City Council seat, to being consistent on campaign promises, and during his term.
The village concept seems to be taking shape at the family level with his brother also running for City Council to fill his now vacant seat. Their energy provides a signal to the constituency that service does matter and so does the dream for a cleaner, safer, perpetually empowered city.  This is a race the nation will be watching.
To learn more or help with the campaign contact by phone 404-913-5060, visit www.alfreddixon.us or email dixonforjonesboro@gmail.com. 
*******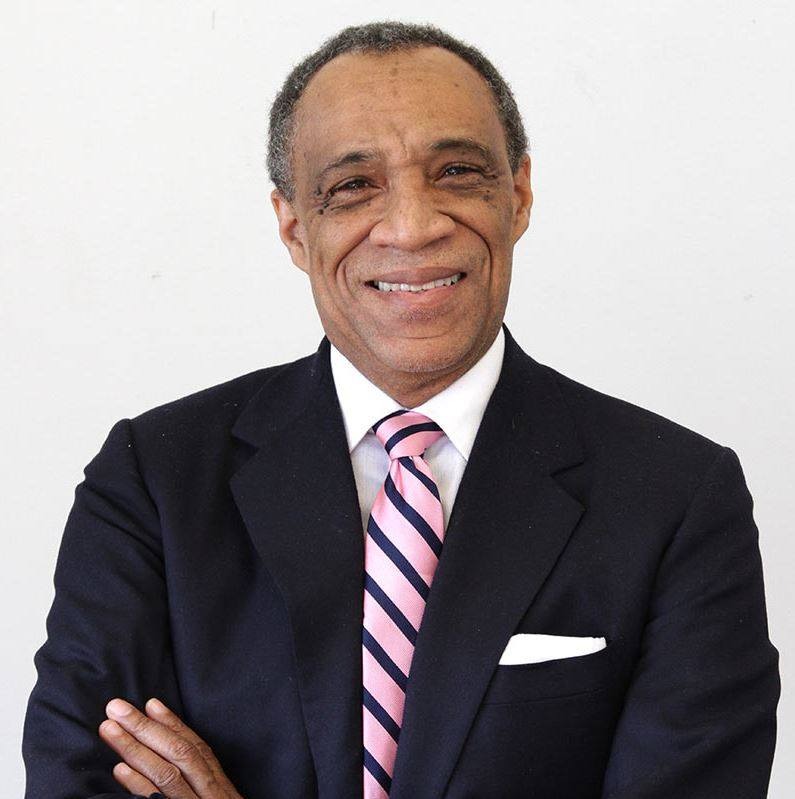 Dear Members of the MCNY Community,
I am delighted to announce that Humphrey Crookendale, Dean of the School for Public Affairs, has agreed to serve as Interim Chief Academic Officer (CAO) until a permanent CAO has been named.
Humphrey Crookendale is the longest-serving member of the #myMCNY community.
He joined the College in January of 1983, followed by Dr. Richard Grallo, with whom he served on the committee that led to the College's accreditation by Middle States Commission on Higher Education.
In his 36 years at the College, he has served in leadership positions as Associate Dean & Acting Dean of the School for Human Services, Dean of the School for Business and currently, Dean of the School for Public Affairs. He will continue to serve as Dean while serving as Interim CAO.
Dean Crookendale was instrumental in designing and getting approval for the College's first graduate program, the MSA (now MPA), the MPA in Emergency & Disaster Management and the launch of Urban Dialogues Series.
He is deeply dedicated to Purpose-Centered Education and to our students. I have known him to be a leader of commitment and integrity.
Please join me in congratulating CAO Crookendale on his new role!
Best, Joanne Passaro, President
*******
Barbadian born, New York-based jeweler and owner of Lapidary Jewelry caught up with Mareka Haynes of "Mareka Marks It", a Barbadian-based PR & New Rules Marketing firm, to discuss services being offered by Lapidary, as Sandra Went prepares a momentus and historical piece of jewelry for the upcoming Circle of 99 Women's event. Men invited. Action-packed summit to be held at Marriott Downtown Manhattan NY.
This six-minute podcast will enlighten you about the concept for the Circle Jewelry piece, and also a brief moment from Sandra on her client base and insight behind her imagination in the creation of jewelry. Read full article by Mareka Haynes here.
**********