PRESS RELEASE:
A Casting Call!
Barbados, with its licensed director, is now a participating country of the "Olympic-Style" World Championships of Performing Arts (WCOPA). We embrace the opportunity to participate at the 24th Annual WCOPA 2020 event between July 24th and August 2, 2020, in Anaheim, California USA.
2020 will be the second year Barbados will be competing at this prestigious international "Olympic-style" event. We congratulate our delegation for 2019: Jianna Fagon, our pioneer for Barbados in dance and Kareen and Trinity Clarke – our pioneer singers and WCOPA medalists!
Our dedicated and aspiring performing artists now have an opportunity to train, learn, compete and network with other talented international performers and entertainers from over 60+ countries. Dancers, models, singers, actors, instrumentalists, and variety acts are invited to ask about the wide variety of styles open to each category listed and to audition by emailing a 60-second video and details to facebar246@gmail.com or WhatsApp (246)-844-0197 before Friday, November 8th, 2019.
Accomplished performers and aspiring entertainers of ages five (5) to 30+, can represent Barbados and win gold, silver and bronze medals, gain scholarships, meet and speak with internationally recognized industry representatives, participate in workshops, develop friendships, gain mentors and seek future opportunities in the international entertainment industry.
Kindly contact:
The National Director
World Championships of Performing Arts
WhatsApp: (246)-844-0197
Email: facebar246@gmail.com
Website: www.wcopa.com

**********
FOR IMMEDIATE RELEASE
Contact: Karema Daley
Phone: (202) 638-0460
21st Annual Invest SMART Caribbean Forum
Registration Now Open
Washington, D.C. - October 21, 2019 -
The Institute of Caribbean Studies (ICS) today announced that registration is now open for the 21st Annual Caribbean Business Roundtable: Invest SMART Caribbean Forum 2019, scheduled for November 21-22 in Washington, D.C. Invest SMART Caribbean 2019 convenes leaders from government, private sector, regional development organizations, academia, finance and investment, to increase awareness of emerging trends (resurgence), business opportunities, and challenges in the trade and investment in the Caribbean. This year's focus will be on 'Enabling Climate Smart Investments in the Food-Energy-Water Nexus'.
WHY?
As climate change leads to more frequent and intense weather events, as well as chronic risks like sea level rise, extreme heat, and drought, resilience has become an increasingly important issue for development planners and investors to understand and address. Food, energy and water systems are intimately connected with each other. Indeed, water is a crucial component to making food and energy systems work. Food and energy are equally dependent upon each other. Thus, the connection between the systems known as the Food-Energy-Water (FEW) Nexus. Climate-smart investments that take into account the complexities of the Food-Energy-Water (FEW) Nexus can help fast-track small islands' national efforts to achieve many of the Sustainable Development Goals (SDGs).
---------------------------------------------------------------------
WHAT?
The conference will focus on 4 interlinked sub-themes, which are the key elements of resilient ecosystem.

Trade, Investment and Development Policies for Inclusive Growth
This sub-theme focuses on rethinking policies and legislation that impact on the food-energy-water nexus and the value-chain ecosystems. Actions are needed to create the enabling environments that encourage innovation and promote inclusive investments.
Disaster Recovery and Reconstruction- Lessons Learned and Strategies to Address Risk and Create Resilience
This sub-theme takes into account the need to gather lessons learned from recent disaster relief and recovery experiences and to use explore means by which more effective and efficient reinvestment can occur.
Emerging Opportunities in the Food-Energy-Water Nexus
This sub-theme takes cognizance of the current and emerging investment opportunities in the Caribbean that could drive transformation, and/or reshape supply chains or address specific business-to-business efforts to increase exports or improve input services relative to actors in the economy.

Financing Options for Increasing SMART Investments
This sub-theme focuses on mobilizing finance, including financial mechanisms for small scale investments or to de-risk private capital including incentives for technology uptake e.g. process automation, drone technology, and precision farming.
--------------------------------------------------------------------
WHO?
The 2019 Forum marks the 21-year anniversary of Caribbean-American Leadership Roundtable and its first convening on the topic of Climate Change and Resilience for the SDGs and the SIDS. Thus, the forum welcomes the participation of all stakeholders from all sectors of the FEW nexus -- to join us in shaping the dialogue and the future.
--------------------------------------------------------------------


DOWNLOAD THE AGENDA

**********




Celebrate Caribbean Excellence
Caribbean American Heritage (CARAH) Awards
Washington, DC - Caribbean excellence will be on full display at the 26th Annual Caribbean American Heritage Awards gala scheduled for Friday, Nov. 22 in Washington, DC and hosted by the Institute of Caribbean Studies (ICS).


CARAH celebrates the accomplishments and contributions of individuals of Caribbean descent. From scientists to musicians and artists, CARAH has been the premier event to honor emerging stars and experts of Caribbean descent within diverse fields who have made outstanding contributions to the community. It celebrates excellence in health care, public service, science, business, and corporate leadership.

The 2019 Honorees are:
Evens Charles - the real estate developer will accept the award for Outstanding Entrepreneurship. Mr. Charles is of Haitian descent.
Dr. Kingsley Chin - the orthopedic surgeon will receive the Excellence in Medicine Award. Dr. Chin is of Jamaican heritage.
Donnette Cooper - the lawyer and activist will accept the Forerunner Award. She is of Jamaican heritage.
Dr. Andre Fenton - a scientist and professor, Fenton will be presented the Award for Excellence in Science and Technology. He is of Guyanese heritage.
Dr. Winnette McIntosh-Ambrose - engineer and entrepreneur will receive the Trailblazer Award. She is from Trinidad and Tobago.
Morgan Heritage - reggae band of Jamaican roots will be presented the Award for Outstanding Contribution to Reggae Music.
Euzhan Palcy - writer, director and filmmaker from Martinque will accept the Luminary Award.
Erwin Raphael - chief operating officer for Genesis Motor America will receive the Award for Outstanding Contribution to Corporate America. He is of Dominican heritage.


Dr. Claire Nelson, ICS founder and president, described the CARAH Awards as a testament to Caribbean Americans continued contributions to the United States. "ICS started this event 26 years ago in an effort to highlight to the American and Diaspora community the caliber of individuals that claimed Caribbean American ancestry and to provide a forum for honoring and recognizing their contributions to the public."


Over the years, well known individuals such as Susan Taylor, former editor-in-chief of Essence magazine, Rita Marley, reggae matriarch and philanthropist, and Earl Graves Sr., publisher of Black Enterprise, have received a CARAH Award. Friends of the Caribbean honored have included Congresswoman Barbara Lee and the Honorable Andrew Young.


The event will be hosted by WAMU 88.5 Kojo Nnamdi, who is himself of Caribbean heritage. Entertainment for the evening will be anchored by top caribbean band in Washington DC, the IMAGE Band. Event partners include CaribNation TV which will co-executive produce the CARAH gala for television and Boom Production Services.
Ainsley Gill, Group CEO of NiQuan Energy will chair the 26th Annual Caribbean American Heritage Awards Gala Honors set for
Friday, November 22, 2019
__________________
Ainsley Gill, Group CEO of NiQuan Energy,will chair the 26th Annual Caribbean American Heritage Awards Gala set for Friday, November 22, 2019 in Washington DC. The prestigious event which is under the patronage of the Caribbean Diplomatic corps and includes among several members of the US Congress as members of the Honorary Host Committee recognizes the accomplishments of nine Caribbean diaspora leaders in various fields, and is the leading honors event in the United States America for people in and from the Caribbean diaspora.
About the Gala Chair Ainsley Gill
An energy industry veteran and a seasoned entrepreneur with more than 20 years' experience in international government relations, financing, business development, information technology and management consulting, Ainsley is the founding member, Group Chief Executive Officer and Director of the NiQuan Energy Group, and also serves on the NiQuan Energy Trinidad Limited Board of Directors. NiQuan Energy is dedicated to the production of ultra-clean paraffinic diesel which significantly reduces vehicle emissions and improves air quality. NiQuan's first project, at Pointe-a-Pierre in Trinidad, is due to begin production in Q2, 2020.
Prior to creating NiQuan Energy, Ainsley served as the Foreign Registered Agent for the Government of the Republic of Trinidad and Tobago (GORTT) in the United States, promoting foreign relations, national security, trade, energy, business development and investments. He was the principal consultant to GORTT in negotiations to leverage the country's membership in the Gas Exporting Countries Forum and was also engaged by the GORTT for the initial conceptualization, strategy development and rollout of the implementation plan for the Trinidad and Tobago International Financial Center.
Ainsley has also worked as principal development consultant to the state-owned gas company, Songagas, G.E. of Equatorial Guinea, where he advised on the collection, transformation and commercialization of all of its liquefied natural gas (LNG) interests. He also led negotiations to increase Sonagas' equity interest in the Alba field and the establishment of the 3G consortium, which included Union Fenosa, Eon Ruhrgas and Mitsumi. In addition, Ainsley was the lead development consultant to RWE Supply and Trading and Excelerate Energy in the development of a major Natural Gas downstream facility and was principal consultant to BPTT in the promotion of the Trinidad and Tobago/ U.S.A. strategic energy interest.


Ainsley has founded several highly successful companies, one of which, CompSpa Inc., provided services to the US Government, including the IRS and NASA.


Ainsley serves as the Chairman of Leadership Global, a non-profit organization that works across the world empowering youth through leadership skills training and capacity building initiatives.
The Awards will be presented at the National Museum of African American History and Culture. The After Party will take place at the JW Marriott and will be anchored by top Caribbean Band in Washington DC, IMAGE Band; and PanLara Steel Orchestra. Event partners include CaribNation TV which will co-executive produce the CARAH Gala Special for television and Boom Audio Production Services.
Hon. Yvette Clarke and Hon. Stacy Plaskett are Honorary Chairs of the
26th Annual Caribbean American Heritage Awards
Friday, November 22, 2019
in Washington DC
__________________
Congresswoman Yvette Clarke (D-NY) and Congresswoman Stacey Plaskett (D-USVI) will serve as Honorary Chairs of the 26th Annual Caribbean American Heritage Awards on Friday, November 22nd in Washington DC.
Congresswoman Yvette Clarke
(D-NY)

Congresswoman Stacey Plaskett
(D-USVI)
Carrying on a tradition that started with Congressman Charles Rangel, the Chairs on the Congressional Caribbean Caucus have roots in Jamaica and the USVI respectively. Other Congressional Representatives of Caribbean heritage who will serve as Honorary Co-Chairs of the Gala include: Representative Anthony Brown, D-MD (Jamaican heritage); Representative Sheila Jackson Lee, D-TX (Jamaican heritage) and Representative Stephen Horsford, D-NV (Trinidad and Tobago heritage).
The Awards will be presented at the National Museum of African American History and Culture. The After Party will take place at the JW Marriott and will be anchored by top Caribbean Band in Washington DC, IMAGE Band; and PanLara Steel Orchestra. Event partners include CaribNation TV which will co-executive produce the CARAH Gala Special for television and Boom Audio Production Services.
-END-
____________________________
Media interested in learning more, attending or partnership should contact press@icsdc.org
The 2019 honorees are as follows:
Evens Charles, of Haitian heritage, hotelier and real estate investor, Outstanding Entrepreneurship
Dr. Kingsley Chin, of Jamaican heritage, surgeon and inventor, Excellence in Medicine Award
Donnette Cooper Esq., of Jamaican heritage, quilt artist and patron of the arts, Forerunner Award
Dr. Andre Fenton, of Guyanese heritage, neuro-scientist, Vanguard Award
Hon. Michael Lee-Chin O.J., of Jamaican heritage, Chair of Portland Holdings, Marcus Garvey Lifetime Achievement Award
Gramps Morgan, of Jamaican heritage, Grammy-winning Morgan Heritage Band, Award for Outstanding Contribution to Reggae Music
Dr. Winette McIntosh Ambrose, Trinidad and Tobago heritage, inventor engineer and food entrepreneur, Trailblazer Award
Euzhan Palcy, of Martinique, France, renown film maker, Luminary Award
Erwin Raphael, of Dominica, COO, Genesis Motors America, Award for Outstanding Contribution to Corporate America.
The
Caribbean American Heritage (CARAH) Awards
, which is held under the patronage of the Caribbean Diplomatic Corps celebrates members of the Caribbean diaspora who have been exceptionally successful in their fields at the national or international level. "ICS started this event 26 years ago in an effort to highlight to the American society at large the caliber of individuals that claimed Caribbean American ancestry, and to provide a forum for honoring and recognizing their contributions to America and the world," said Dr. Nelson, Founder and President of the Institute of Caribbean Studies. "This remains important today, given the rising anti-immigrant rhetoric."
Over the past 25 years, over 100 leaders and influencers such as Jimmy Cliff, reggae icon; Dr. Cato Laurencin, inventor and surgeon; George Willie, CEO of Bert Smith and Company; actress CCH Pounder; and Eric Holder, Former US Attorney General have received CARAH Honors. Friends of the Caribbean lauded have included Congresswoman Donna Christensen, Congressman Charles Rangel; and the Hon. Andrew Young.
The 2019 CARAH Awards will be presented at the National Museum of African American History and Culture.
TAKE A TRIP DOWN MEMORY LANE!
THE 2014 CARAH AWARDS
**********
Press Release: ADIFF NYC 27th Edition Announced! - Nov. 29 to Dec. 15, 2019
THE AFRICAN DIASPORA INTERNATIONAL FILM FESTIVAL
Friday, November 29 – Sunday, December 15, 2019

NEW YORK, October 8, 2019 - The African Diaspora International Film Festival (ADIFF) will celebrate its 27th anniversary from Nov. 29 to Dec. 15 with over 60 feature length narratives and documentaries to be presented at Columbia University's Teachers College, Cinema Village, MIST Harlem and The Museum of the Moving Image.

Opening Night film, Ali's Comeback: The Untold Story by Art Jones, is a fascinating documentary that recounts the unsung saga that broke the boxing's blacklist status of Muhammad Ali, the champion who said "no" to war and racism. The year is 1970. It has been three and a half years since Muhammad Ali was stripped of his title. Convicted of draft evasion. Threatened with imprisonment. Banned in all 50 states, he is unable to work in the field for which he had no equal. The wide door on his illustrious career seems to be closing. But in Atlanta, Georgia, an astute white businessman, a visionary black senator, and a progressive Jewish mayor came together to make it possible for Ali to resume his amazing boxing career.


In collaboration with the Martinique Bureau, ADIFF will present the East Coast Premiere screening of Jocelyne Beroard, at Heart | Jocelyne, Mi Tchè Mwen. Sole female member of the legendary Caribbean band KASSAV, Jocelyne Beroard is one of the greatest icons of the Caribbean and African communities. Beyond having initiated a new musical movement called Zouk, she largely contributed to spreading its influence in the Caribbean to a global scale. This documentary relates her journey from Martinique to becoming an icon and the first Caribbean singer to get a gold record.

A Lady Doctor by Juney Smith (The Robeson Effect) will have its World Premiere in ADIFF. This documentary tells the inspirational story of Dr. Juanita Jenyons who immigrated to the United States from the Dominican Republic as a child gifted with medical science and not speaking English, and emerged to become an excellent student, an Ivy League college graduate and a Medical Doctor.

Wagner Moura's Marighella - which had its world premiere out of competition in Berlinale
2019 – is ADIFF 2019 Centerpiece. Currently censored in Brazil, Marighella is a new Brazilian action drama set in 1969 based on the life of Afro-Brazilian politician and guerrilla fighter Carlos Marighella. Facing a violent military dictatorship and with little support from a timid opposition, writer-turned-politician Carlos Marighella organizes a resistance movement.

The entire festival line-up will be announced in the coming weeks. For more information about the 27th Annual African Diaspora International Film Festival, to receive the complete line up, screeners and high resolution images please contact Diarah N'Daw-Spech at (212) 864-1760/ fax (212) 316-6020 or e-mail pr@nyadiff.org. Festival web site: www.nyadiff.org.

The African Diaspora International Film Festival is a 501(c)(3) not for profit organization.
ABOUT THE AFRICAN DIASPORA INTERNATIONAL FILM FESTIVAL
Described by film critic Armond White as "a festival that symbolizes diaspora as more than just anthropology," ADIFF has managed to increase the presence of independent Afrocentric films from all over the world in the general American specialty movie scene by launching films such as
The Tracker
by Rolf de Heer (Australia),
Kirikou and the Sorceress
by Michel Ocelot (France),
Gospel Hill
by Giancarlo Esposito (USA
),
Darrat/Dry
Season
by Mahamat-Saleh Haroun (Chad),
Scheherazade, Tell Me a Story
by Yousry Nasrallah (Egypt),
The
Pirogue
by Moussa Touré (Senegal),
White Lies
by Dana Rotberg (New Zealand), and
The Citizen
by Roland Vranik (Hongary), among others.
Attracting a wide cross-section of cinephiles and audiences of African-American, Caribbean, African, Latino and European ethnic backgrounds who share a common interest for thought provoking, well crafted, intelligent and entertaining stories about the human experience of people of color, ADIFF is now a national and international event with festivals held in New York City, Chicago, Washington DC, and Paris, France.
Commenting on the line up of ADIFF Chicago 2019, film critic Kathleen Sachs of the Chicago Readers wrote: "The films in the 17th Annual African Diaspora International Film Festival – Chicago do what much media and even the public school system fail to do: educate. Through robust programming that gives meaning to the word "diverse," the selections in this year's festival illuminate the experiences of those living in the African diaspora around the world. The New York-based husband-and-wife programmers, Reinaldo Barroso-Spech and Diarah N'Daw-Spech, have chosen more than a dozen films that, through a variety of modes and genres, further dimensionalize already complex issues specific to those living in these communities. Naturally, documentary lends itself to this mission, though several narrative features and a short fiction add to the plenitude of information."
http://www.NYADIFF.org
Copyright © 2019 African Diaspora Film Festival, All rights reserved.




**********

**********
**********
Last Night at the Pink Taco
BUSINESS EDUCATION MEETS HOLLYWOOD!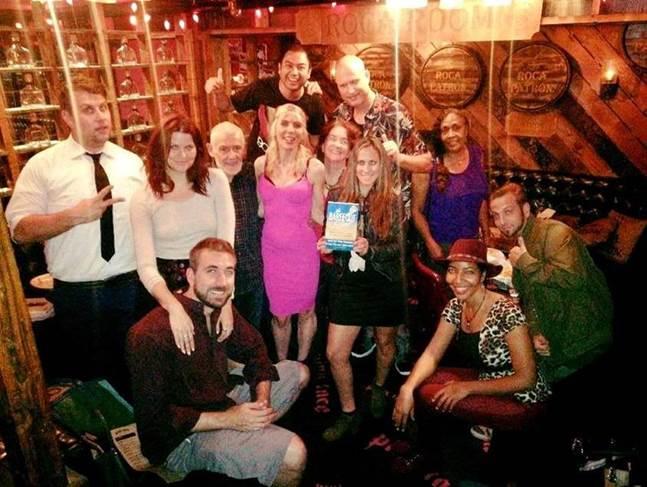 Book cast from left to right: Middle row: Case Williams, Jennifer Van Heeckeren, Robert Weiner, Alamada Karatihy, Mary Benedict, Lizette Santiago. Back row: Ruffy Landayan, Matt Weinglass
Last night at the Pink Taco, on the Sunset Strip in, you guessed it, LA, a very special group of Hollywood actors gathered in a reserved table for a very special celebration. The production they had been working on for over a year was finally completed and launched. They were celebrating! And well they should! What they have been working on is no less than a breakthrough in business education, a new application of experiential learning, and the creation of a whole new genre of business audio books, Business Audio Theatre.
The actors weren't in a movie, but they were in a "movie of the mind." They performed in cinematic scenes with sound effects and an original musical score. They acted out real life situations that occurred in the early days of the founding of what is now the world's largest wine brand. And they did it all in audio, where an outstanding female narrator set up the listeners for each scene with descriptions of the sets, the challenges, and the mentality of the characters. This was a private launch party for the Sherwood Players who produced The Barefoot Spirit Business Audio Theater.
We are very proud of the professional job they did as performers. They definitely brought our New York Times bestselling paperback to life in a new, fun, and exciting way. Some of them are starting their careers. Others are seasoned veterans. We hope this opportunity will help them all move forward.
The venerable Ed Asner plays a very convincing skeptical supermarket buyer who originally refuses to take on Barefoot Wine, but ultimately paves the way for its success. Gigi Perreau, the longtime Hollywood actress who actually performed on original radio theater, plays Mabel, Bonnie's mom and a WWII Rosie-the-Riveter, salt-of-the-earth type, who comes to live with us and pitches in with physical and emotional support.
Our narrator was Alamada Karatihy who beautifully carries the story through all its ups and down, twists and turns.
Interestingly, one of the actors, Tom Mallory wrote his own business book, Bankroll, to help Hollywood actors gain financing for their projects.
The original musical score was the brainchild of Tyler David Gilbert who also did a masterful job of editing… and re-editing! Thank you Tyler!
But like any team, its performance is only as good as its coach. In this case our director, Matt Weinglass, was responsible for leading his troupe! Matt understood what we were trying to do, which was to bring our business biography to life and demonstrate through dramatic performance – and a generous dash of humor – key business principles that can help others succeed. He artfully and skillfully brought all the pieces together to create continuity, purpose, vision, and team spirit. And after all, that's what the story is all about …spirit!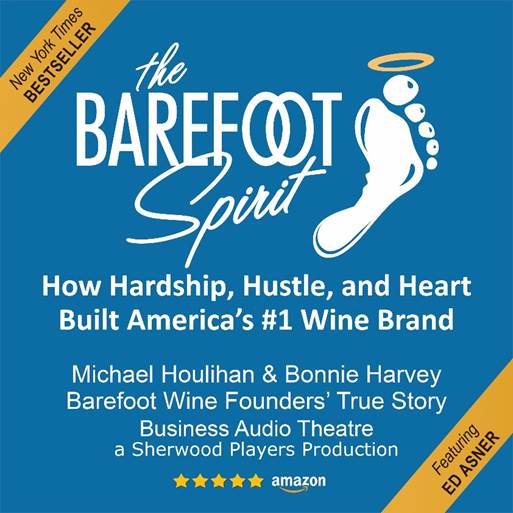 Many thanks to Sherwood Players Productions and our dear friend and colleague Ryan Foland ,who encouraged and supported us in this new venture!
So now it's up to you. We produced this new style of business audio book in the hopes that more of you would benefit from the many lessons we learned the hard way – so you don't have to! Just experience what happens to us in this modern seat-of-your-pants, cliffhanger adventure story about a brand you know. We'd love to get your comments and we would be thrilled if you would recommend it to your friends who can benefit. There's ten, 40 min chapters with a short "live" interview with us at the end of each, perfect listening for your next jog or commute.
Hear to a few scenes from The Barefoot Spirit, now available on our Author's Direct page and at audiobook retailers everywhere!
To your success!
M&B
Michael Houlihan & Bonnie Harvey
Co-Founders, Barefoot Wines
New York Times Bestselling Authors
The Barefoot Spirit, The Entrepreneurial Culture
**********
Councilman Dixon Assembles Committee to run for Mayor, City of Jonesboro
#ittakesavillageinjonesboro


Photo 1: Committee to Elect Alfred Dixon, Mayor City of Jonesboro
Quickly following his announcement to run for Mayor of Jonesboro, GA, City Councilman Alfred Dixon held an organizational meeting at the venue housing Village Talk Radio. Alfred Dixon has always been authentic in his approach to problem solving on behalf of the citizens of Jonesboro.
His engagement hashtag, #ittakesavillageinjonesboro, will provide strategic dimensional plans to elevate the City towards workforce diversity training, purpose-driven experiential education, job skills development, housing, and more. Solving problems for the community will continue to be his trademark, while engaging all community cultures to enable a successful, sustainable city.
Councilman Dixon's humility and discipline while serving, being committed and consistent, gained him special credibility--from running the campaign for the City Council seat, to being consistent on campaign promises, and during his term.
The village concept seems to be taking shape at the family level with his brother also running for City Council to fill his now vacant seat. Their energy provides a signal to the constituency that service does matter and so does the dream for a cleaner, safer, perpetually empowered city. This is a race the nation will be watching.
To learn more or help with the campaign contact by phone 404-913-5060, visit www.alfreddixon.us or email dixonforjonesboro@gmail.com.
*******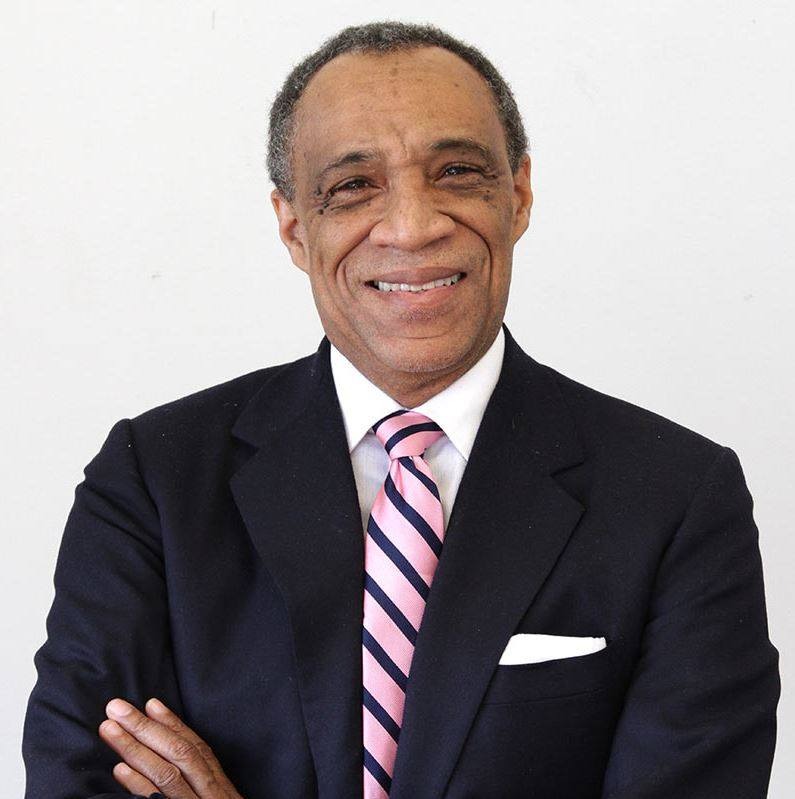 Dear Members of the MCNY Community,
I am delighted to announce that Humphrey Crookendale, Dean of the School for Public Affairs, has agreed to serve as Interim Chief Academic Officer (CAO) until a permanent CAO has been named.
Humphrey Crookendale is the longest-serving member of the #myMCNY community.
He joined the College in January of 1983, followed by Dr. Richard Grallo, with whom he served on the committee that led to the College's accreditation by Middle States Commission on Higher Education.
In his 36 years at the College, he has served in leadership positions as Associate Dean & Acting Dean of the School for Human Services, Dean of the School for Business and currently, Dean of the School for Public Affairs. He will continue to serve as Dean while serving as Interim CAO.
Dean Crookendale was instrumental in designing and getting approval for the College's first graduate program, the MSA (now MPA), the MPA in Emergency & Disaster Management and the launch of Urban Dialogues Series.
He is deeply dedicated to Purpose-Centered Education and to our students. I have known him to be a leader of commitment and integrity.
Please join me in congratulating CAO Crookendale on his new role!
Best, Joanne Passaro, President
*******
Barbadian born, New York-based jeweler and owner of Lapidary Jewelry caught up with Mareka Haynes of "Mareka Marks It", a Barbadian-based PR & New Rules Marketing firm, to discuss services being offered by Lapidary, as Sandra Went prepares a momentus and historical piece of jewelry for the upcoming Circle of 99 Women's event. Men invited. Action-packed summit to be held at Marriott Downtown Manhattan NY.
This six-minute podcast will enlighten you about the concept for the Circle Jewelry piece, and also a brief moment from Sandra on her client base and insight behind her imagination in the creation of jewelry. Read full article by Mareka Haynes here.
**********